Okay, Google. How Can 'Google My Business' Help My Property Stand Out in Local Search?
Every apartment marketer is hungry to achieve more visibility in online search results for their communities. After all, the more visibility a property achieves online, the more likely a potential renter is to discover the business and take a step toward calling, touring, renting, or moving in.
SEO, or search engine optimization, is the art and science of making your website rank higher in search engines, like Google, Bing, and Yahoo. Although SEO strategies have shifted over time and continue to evolve as businesses race to compete for rankings, a few tried and true practices remain impactful.
One of those practices is claiming, updating, and maintaining all of your business' local listings. Local SEO strategy continues to build upon the foundation of accurate, clear information across business directories online. Paying close attention to local SEO strategy is particularly critical if your property is located in a heavily saturated market.
Local listings also play a critical role in preparing for the emergence of voice search. Comscore projects that 50% of all search queries will be conducted via voice by the year 2020.
This means instead of typing search terms into a web browser search bar, customers will begin asking their personal assistants to complete the search query for them.
Let's consider what types of voice questions these prospective renters could ask:
Okay Google. Give me directions to Blue Line Lofts.

Alexa, what are the best apartments in Columbus, Ohio?

Okay Google. Show me apartments near work.
Voice assistants can (and will) pull information from your property's online listings to answer any of these inquiries.
With the rise of voice search and the growing saturation of local markets, we recommend going back to the basics with your SEO approach and paying careful attention to the accuracy of local listings across online directories. You may have optimized for this in the past, but it's imperative that you reassess on a regular basis in order to stay competitive and top of mind in the marketplace.
Watch below as 30 Lines' Kristi Fickert and Chris Beckwith-Taylor share ways apartment marketers can own their corner of a saturated market and stand out in local search results without spending more marketing dollars to compete.
First, Claim and Verify Your Google My Business Listing
There are a vast array of business directories accessible online, and your property information may be featured on as many as 100-plus listings overall. Ensuring your information is correct and consistent across these listings is crucial; however, your Google My Business (GMB) listing is far and away the most important listing to consider.
GMB is quickly becoming the dominant force in local SEO, especially after prospects have conducted their initial search for options and have a base-level awareness of your property.
Keeping your GMB listing updated can increase your chances of showing up in Google's Local Pack, Google Maps, Google's Knowledge Panel, and organic search results (organic simply refers to non-paid spots on a search results page).
If you haven't already claimed and verified your GMB listing, you'll want to start there. Along with many of Google's features, GMB is a free tool available to your business. You can start the process of claiming your listing by visiting www.google.com/business/ and clicking here:
At the very least, make sure your GMB listing is updated with basic information about your community, such as the property address, hours available, phone number, and website address. This property information should be consistent across the internet – from other online listings and social media profiles to your property website. If you change or adjust your office hours on-site, due to seasonality or holidays, make sure you adjust these accordingly on your local listing sites, including your Google My Business profile.
GMB (Free!) Features to Note
It can be easy to confuse Google My Business with Google+, which was initially developed as a social network to connect Google users. Google is now phasing out the Google+ service. On the other hand, Google My Business was created as a free tool for businesses to manage their presence across Google, including search and maps. You can view a community's GMB listing in action within the Google Knowledge Panel below:
Although Google+ is shutting down, GMB continues to grow and develop as a key resource for companies across numerous industries. New features are consistently being rolled out, and the impact of GMB on local search results continues to increase. But, don't take our word for it!
"Providing and updating business information in Google My Business can help your business' local ranking on Google and enhance your presence in search and maps." 
Many of these features are free of charge. The following represents some key (and free!) features within GMB to consider:
GMB Posts
You can think of Google My Business Posts as "mini-ads" or "social media posts" that add to your GMB listing. These posts show up prominently in Google's Knowledge Panel and on Google Maps.
When creating your GMB Post, you can add an image, a call-to-action, and a link to another page or website. You can even categorize a post as an "event." If you add a date for your "event," Google will take your post dark after the date listed.
Sarah Greenough from Princeton Properties recently shared some striking results on the effectiveness of routinely posting to GMB with the National Apartment Association (NAA) in UNITS Magazine. In their test, the Princeton Properties team selected two similar apartment communities. The properties are located in the same city and are the same age, same price point, and even share the same zip code. For one property, the team took advantage of the opportunity to routinely share posts on GMB, while the other property did not use the posting function.
In one month, Sarah and her team quadrupled the number of actions on the GMB listing of the property where GMB Posts were being utilized. Although a significant increase in views and traffic between the properties was also reported, the most striking figure was the increase in prospects taking an action within the listing – either clicking to call or visiting the property website. Remember, being seen online is good, but getting customers to take action is great.
Your GMB Post does not have to contain a special or concession. It certainly can; however, you can also talk about something fun going on in the neighborhood, or invite prospects to attend an upcoming resident event. Think of this feature as being similar to posting to your property social media pages. Content and posts should be relevant and helpful, but should also help potential renters learn more about your community, what you have to offer, and what sets you apart from the competition.
GMB Appointment URL
Giving prospective residents the option to schedule a tour online can help your community stand out from the crowd. It also helps create the experience apartment shoppers expect when they discover, research, engage, and transact through your apartment website.
You have the opportunity to share an "Appointment URL" on your GMB listing. By taking advantage of this feature, apartment marketers can funnel interested prospects directly to their tour scheduling tool.
Across apartment communities using a tour scheduler with 30 Lines, 89% of prospects who schedule their own appointment actually show up to the leasing office for their tour. Out of those individuals who tour, nearly 40% rent.
A tour scheduler is already a valuable tool for your property website, but adding the URL to your GMB listing can add even more value to your investment. Make it easy for prospects to take a leasing action, wherever they find you.
GMB Reviews
When you search for an apartment community on Google, chances are one of the first things you'll see is the property's ratings and reviews. That's intentional – Google knows ratings and reviews are critical in a prospect's decision-making process. If those reviews aren't great, the prospect is going to be less likely to move down the funnel and transact with your property. In today's digital age, 91% of 18-34 year-olds trust online reviews as much as personal recommendations.
You can ask your customers for GMB Reviews; however, be sure to follow Google's updated guidelines for facilitating positive online ratings and reviews. An important guideline to note, "Don't discourage or prohibit negative reviews or selectively solicit positive reviews from customers."
Along with asking for online reviews, it's also best practice to respond to the reviews (good or bad!) in a timely manner. Responding not only demonstrates to the customer that you care, but it also assists other prospects who are using online reviews to narrow their selections. Keep in mind, 86% of consumers read reviews for local businesses, including 95% of people aged 18-34.
Photos and Videos
Even before stepping foot into their future apartment, prospects want to open the door to their future living experience — online. Adding photos and video to your GMB listing is a great way to showcase that experience.
The process of obtaining photos and videos to add to your page doesn't have to break the bank. If you don't have the budget to hire a professional, today your phone's video and photo quality are just as good as most professional equipment.
The image below shows where you can add photos and videos from your GMB dashboard: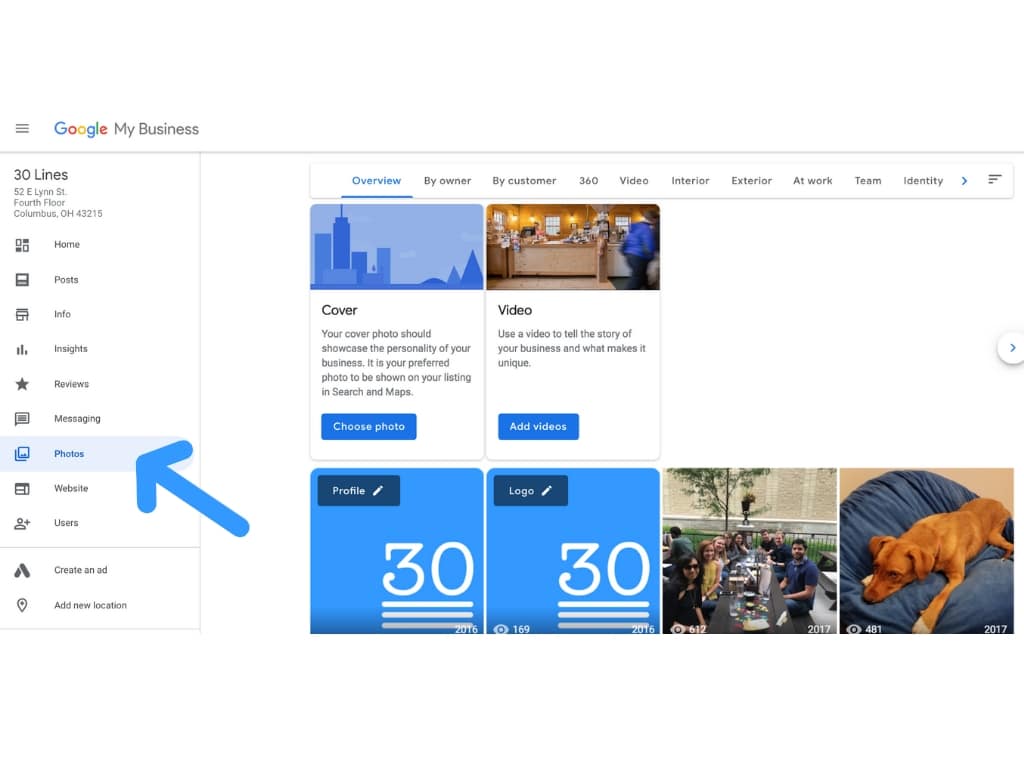 Google recommends that videos uploaded are no longer than 30 seconds long. Google also requests that videos are taken at the place of business and only include people that directly pertain to your business. Videos can be removed by Google if the criteria mentioned is not met.
Take an Active Approach to Optimizing Your Local Listings
We're only skimming the surface of features available to further optimize your Google My Business listing. As new features come up with GMB, consider trying them out to stay ahead of your competition.
It's also important to consider optimizing your listing as an active process, not passive. Google favors listings that routinely see engagement – both by searchers and by the listing owners.
However, GMB is just one of many local listing services to keep your eyes on. You'll also want to make sure your property's information is complete and accurate wherever a prospect may be searching – whether they're using Apple Maps, Facebook, Bing, Yahoo, Yelp, or one of the countless other services available online.
Your 30 Lines team is here to help! If you'd like to learn more about Google My Business features, need help managing your local listings or need to get your on-site teams trained on Local SEO, connect with 30 Lines.  
Get More Online Reviews
In today's digital age, 91% of 18-34 year-olds trust online reviews as much as personal recommendations. One of the most effective ways to collect online reviews is by asking current residents to leave feedback.
We want you (and your team!) to feel confident making that ask. That's why we put together some free tips and tricks for asking for resident reviews. 
Download Now