Build Your Online Leasing Office
With shelter in place orders in 42 states due to COVID-19, having a stellar online leasing office is an absolute must. And your website should be that. Building your website to be the ultimate online leasing office and a hub for your digital marketing efforts sets up you and your team up for success when in-person traffic is at its lowest. 
RentPress is an apartment marketer's number-one tool on their digital tool belt. From real-time pricing to smarter guest cards, RentPress quickly builds the foundation for your online leasing office. And with the newest integration with RealPage, you can now connect your Mailchimp email list directly to your RealPage CRM.
More than just a plugin, RentPress can help with the following challenges many marketers encounter when creating their online hub:
Meeting shopper goals and answering their questions

The online tour experience 

Lead capturing and tracking

Easy updating

The user experience and design
Meeting Shopper Goals and Answering their Questions
Shoppers have different goals depending on where they are in their journey. 
Perhaps the shopper stumbled upon your property during a Google search and is just learning about you. Maybe they are returning to your site, still weighing their options and want to know what amenities your property has to offer. What if they want to know when they can move in and how much it will cost? All of these parts of the buyer's journey are questions that your website should be equipped to answer.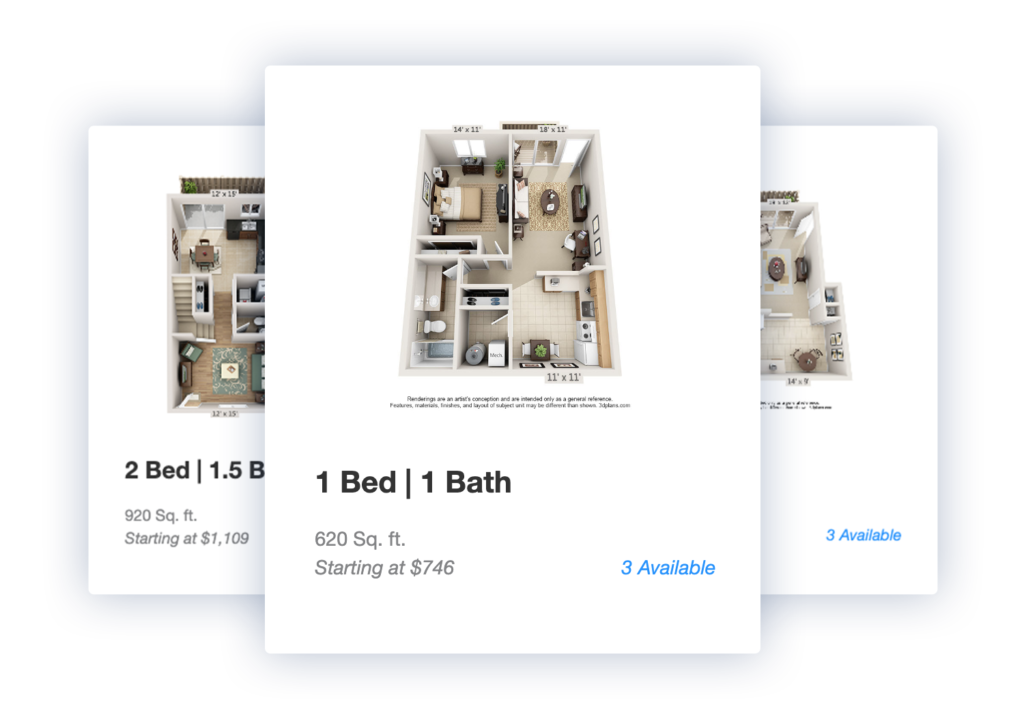 The most basic questions that prospects ask are "How much? And when can I move in?" Leasing agents answer this all the time at their leasing offices. It should be included on your online leasing office as well. Providing pricing on your website ensures that highly qualified and interested leads hit your inbox.
If the answer to the question "how much?" is "it changes daily" then you need up-to-date prices on your website. With RentPress, you can have real-time pricing and availability on your website in minutes by seamlessly integrating with the industry's leaders of property management systems.
Online Tour Experience 
When leasing offices are closed or offer shortened hours, in-person visits and tours are limited. But that doesn't mean prospects don't want to see your property. You wouldn't buy a product from Amazon without seeing a picture or two. Apartment shoppers are no different. 
Providing virtual tours or even offering live video walk-throughs in place of an in-person experience lets your potential residents get a taste of their next home. Put these digital tours on your floor plan, gallery, and amenity pages. Even your home page. RentPress includes templates that let you feature video or Matterport tours as part of the shopping experience. Encourage your prospects to sign up for a tour with a pop-up. And because RentPress supports pop-up contact forms, those submissions are sent directly to your lead management system. 
Lead Capturing and Tracking
Almost nothing is more important to your team than collecting leads and tracking them accurately. Capturing prospect information is the only way your team will be able to follow up with warm leads and turn them into red-hot signed leases. 
Make it easy for users to reach out to you through your website. A contact page with a form lets prospects ask questions specific to them. Feature the link to the contact page all over your site. The footer, floor plan page, and home page should all include a link to the contact form.
Level up your contact forms by having them dynamically update based on the user's journey.  RentPress bridges this gap between forms on your website and your lead management system. Having a smarter contact form makes it painless for prospects to request information about their preferred property, floorplan, and even specific units. The form they are provided automatically knows the specific layout they want and then passes this information to your staff when the prospect hits submit. 
RentPress also connects with RealPage CRM and your Mailchimp account. When a guest card is created through your website or by your leasing team it is also funneled into your email list. This ensures that your email campaigns reach all of your leads.
Easy Updating
We spoke to one of our clients about everything they have to handle in a day. In a single day they had to answer resident questions and concerns, learn about the latest policy regarding COVID-19, write an announcement for the property relating to that policy, update the property's website, post on social media, update the property management system, and follow up with leads. That's a lot to handle in one day!
Finding a tool to combine two or three of those steps saves your team time and removes opportunities for mistakes. Here at 30 Lines, we've created a list of resources, tools, and suggestions to help your business navigate communication and marketing during the COVID-19 situation. You can find these resources on our dedicated Crisis Marketing Resources page. 
RentPress also includes templates that can display images, descriptions, and more from your property management system feed right onto your website. And because RentPress connects directly with your management system, whenever you update your system, RentPress updates as well. No additional work for your leasing team required.
The User Experience and Design
For your website, user experience should go deeper than providing answers and checking off boxes.  The design and layout of a website makes this information easy to read and understand. A thoughtful design can make your website more compelling. Quality photography supports the messaging on the page while giving the shopper the opportunity to imagine themselves in the space. Fonts and colors that match your branding create a cohesive experience that ties your online office to your real-life property. 
RentPress also includes templates to easily transform the most important pages on your website into beautiful and easy-to-navigate lead capturing machines.
Prospects enter your website with expectations about what information they can find and where it can be found. A layout that feels familiar lets the prospect find what they are looking for effortlessly and feel comfortable with the website. A standard format has contact information located in a static bar at the bottom of the website with a menu of items at the top of the site.
When shopping online, you often see products laid out in a grid. RentPress and retail giants like Amazon, Etsy, and grocery stores like Kroger make use of these grid layouts because they are clear and straightforward. When shoppers can browse with ease, they are more likely to continue their buying journey with you.

Bottom Line
When in-person experiences are limited an online leasing office is a team's most powerful tool. RentPress lets you set up this office in mere minutes and integrate with your lead management system. For one property. For your entire portfolio. Power your marketing machine with automatic updates, smarter forms, and beautiful layouts. 
This platform transforms any website into a compelling marketing hub that lets your prospects know everything about you, all in one convenient place. 
Want to learn more about RentPress? Check out all it has to offer.