Reimagining WindsorCommunities.com
Taking Windsor's online home to the next level, with help from the multifamily marketing experts at 30 Lines
Congratulations on taking the first step toward taking WindsorCommunities.com to a whole new level!
You had a lot of fantastic questions in your RFI, and although we've already had the privilege of working with your amazing Windsor team, there's a lot you don't know about 30 Lines and our apartment marketing solutions … so we want to get right to it.
Let's get started!
You've spent the last 60 years building an amazing company and brand with a premier real estate portfolio spanning multifamily, industrial, and mixed-use properties.
Purpose of This Project
You recognize that a website is never truly finished. Your site is always a work in progress and there are always opportunities to improve the customer experience and drive bottom-line results.
As we answer the questions you shared in your RFI, we're keeping the following objectives in mind:
Improve the overall Windsor brand experience
Move away from 150+ property sites by 2025 for efficiencies.
Add merchandising for units and floor plans
Improve search capabilities
Reduce the burden on the property teams
To stay competitive with our peers who are centralizing these tasks therefore focusing on enhancing the user experience (both employee and customer).
To increase revenue on rents and renewal percentages by providing additional focused customer service.
To centralize the administrative, time-consuming tasks so the support staff can focus on direct revenue generating activities and the customer experience.
To build flexible solutions that will enable growth with known resource growth needs.
To enhance our processes thereby improving income, customer service, reporting, and property operations.
Project Scope
How can 30 Lines help?
The scope of our proposal will focus on consulting and technical services to help you improve:
Total Traffic into the site (Increasing Sessions and Users)
Website Engagement (Improving Bounce Rate, Time on Site)
Conversion Rate (More – and more qualified – First Contacts, Tours, and Net Applications)
We've listed your RFP questions here for reference. Click on any question to jump straight to our response.
How would you improve the conversion rate on WindsorCommunities.com? 
(Conversion events include Schedule a Tour, Contact Us)
Describe your approach to user experience design.
Can you provide examples of Floor Plan and Unit Detail interfaces that your firm has developed?
How would you optimize each phase of the customer journey?
We have encountered failed core web vitals for both our desktop and mobile interface. How would you correct these issues?
What improvements would you recommend to our homepage?
Describe how your firm is preparing for GA4 and the deprecation of 3rd party cookies.
Do you have a recommended strategy for first party data collection?
What type of development does your firm use (agile, waterfall, hybrid)?
How would you recommend improvements to our SEO to improve our online visibility?
Ultimately we want one website – how would you take us on that journey with your firm?
What multifamily CRM systems have you integrated with?
How long has your company been in business?
Describe your fluency with RentCafe APIs.
What is your warranty for feature releases?
What is your testing approach?
How do you keep up on digital trends?
What's your approach to feature development vs. maintenance?
What level of involvement do you expect from the client?
Annual revenue? (Attach annual report)
Breakdown of employee roles within the company.
Attach your MSA for review.
Do you agree to review and be open to reasonable contract changes if bid is selected?
How would you improve the conversion rate on WindsorCommunities.com?
Before we do anything, we'll want to take benchmarks to see where you're currently at with the conversion opportunities you have in place today. That gives us a baseline so we know how we're doing as we move forward with our optimization projects.
We already see a number of opportunities we would recommend to thoughtfully increase conversions across the site: (Conversion events include contact forms submitted, tours scheduled, phone calls, applications started, and more)
Add "softer" CTAs
Add "Book a Tour" or "Request Info" next to or in place of most instances where "Apply Online" is currently the only option. We want to make it less of a commitment for prospects to take action if they're not quite ready to apply. In any instances where "Book a Tour" is the CTA, this should connect directly to your CRM's leasing calendar to only show available time slots based on your team's schedule.
Cross-promote
Think "You might also like…" We want to introduce more cross-promotion opportunities between similar properties and similar floor plans within the same property. Over time, this can become a more intelligent "recommendation engine" to help visitors to the apartment that's the best fit for them.
Incorporate interactive site maps
Using interactive property maps (such as the Engrain SightMap) on your desktop view allows prospects to easily see and select the exact apartment they want to rent.
Create conversion opportunities on your neighborhood pages
Your neighborhood pages are a great place to capture leads who like what they see in a certain region but may have multiple properties in mind.
Interject when we know visitors might want some help
Look for behavior patterns that indicate browsing (actions that suggest uncertainty), then proactively offer help through smart, personalized Lease Magnet nudges.
Add more imagery of people throughout the site
This one is a bit harder to quantify directly, but people are more likely to convert when they see that you can help them become a better version of themselves. Show this across your site by incorporating more people and lifestyle imagery that your visitors can connect with.
Describe your approach to user experience design.
Build for the customer.
We'll be blunt: You don't come first when it comes to apartment website design and demand generation.
Your customer does.
Hear us out:
Everything we put into our websites and software solutions is focused on creating a better shopping experience for the customer, which ultimately benefits you through higher conversions and more qualified leads. We follow consumer behavior and help you meet them where they are — regardless of where they are in their search process.
Our goal is to make it easier for your customers to find the answers to the questions they have, and our experience has shaped our insights into how those questions evolve as the prospect gets closer to making a decision about where to live.
At the beginning of a prospect's search, they might ask questions like "What are the best neighborhoods in Denver?" or "best apartments near Texas Medical Center."
As they get closer to choosing you, the search might look more like "When is Windsor Dogpatch open for tours?"
With the right approach, WindsorCommunities.com can answer all of those questions as your prospect moves through their shopping journey. Keep reading … we'll share examples of these kinds of pages in action in a bit.
Of course, you want to be able to share your story and create a strong connection with the customer as they learn more about you, your people, and the lifestyle you can offer. We're here to help you find the perfect way to showcase your brand and help prospects picture themselves living with you.
Focusing on our design process, we believe that form should always follow function.
By following a four-step UX process, we ensure that websites drive results – and that they look good while doing it.
Before pushing any pixels, our first goal is always to understand our client's brand + value proposition, their users' pain points, and functional requirements for the new website.
This phase includes:
Stakeholder Interviews: We talk to the Windsor team and get a better feel for your brand, what sets you apart, and what your goals are with the new website
Once we have a baseline understanding of your company's objectives, we get to work researching.
This phase includes:
Creating user personas and user stories: We will create personas for all audiences we want to reach with the new website. What is each persona's goal when visiting this website, and how will that affect our UX? What speaks to these personas? Each persona's journey must be accounted for in the user experience.
Competitor Analysis: During the Understand phase, we will learn who you view as your biggest competitors. Competitor analysis allows us to see how they are positioning themselves in the field, presenting their online presence, and most importantly how we can leverage your value proposition against theirs.
Using everything uncovered from phases one and two, the design phase begins.
This phase includes:
Homepage design: We start with the homepage, as its the hub of the website and the first impression for your users. Once we have buy-in on this design from stakeholders, we will move to the remaining interior pages.
Interactive prototype: We publish website designs into an interactive prototype that opens in your browser, mimicking how it will look and flow on the web.
Once we have a fully functional prototype, we test from the end-users perspective to ensure ease of use and to uncover any usability flaws.
In addition to website analytics tools, we also recommend using behavioral analytics tools like Hotjar to observe how visitors are navigating the site, uncover UX issues, and prioritize the right pages and areas to fix. We'll use Google Optimize to split test designs to determine the optimal user experience.
Can you provide examples of Floor Plan and Unit Detail interfaces that your firm has developed?
We believe the apartment shopping experience should be easy and even fun. It should feel familiar to the shopper, like other ecommerce sites they intuitively know how to navigate.
We take an approach that is inspired by the most popular ecommerce sites, then incorporates the apartment-specific elements that we know shoppers are looking for.
We've packaged this together in our RentPress apartment marketing platform, which now powers apartment website experiences for nearly 2,000 properties nationwide. Over 20 other website design agencies now use RentPress to power the apartment shopping experiences on the WordPress websites they're creating for their multifamily clients. And the best part is, it's tailormade to work on your existing site.
Modular and Flexible
In line with current WordPress and website builder trends, we've taken a modular approach to how you can implement Floor Plan and Unit content across your site, creating completely new ways for your team to highlight content and feature specific properties and floor plans exactly where you want customers to see them.
We break our standard interfaces down into two categories – the Floor Plan Catalog Grid and the Single Floor Plan "Product" Page. (All of the data is accessible via a separate data layer, so these interfaces can be highly customized.)
Here's an example of our Floor Plan Catalog Grid: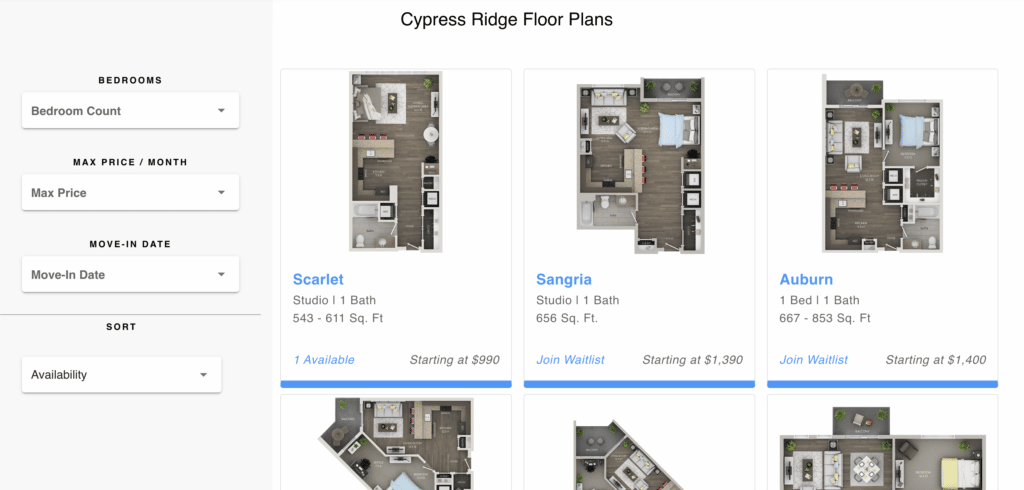 The Floor Plan Catalog Grid is responsive to the screen size, and the sort/filter options can be presented vertically along the side or horizontally across the top. It's available as a customizable WordPress shortcode, so you can add dynamic floor plan content anywhere you want across your site (perfect for SEO and PPC-focused landing pages).
We also can add custom filters, which are perfect for situations like phased communities where you want to be able to filter by property phase. (This could work well for a property like Windsor Radio Factory.)
See a live example of the Floor Plan Catalog Grid »
When the visitor selects a specific floor plan, they're then taken to the Single Floor Plan "Product" Page. Here's an example of the top section of that standard single floor plan experience:
Single floor plan information can be presented as a separate page or as a modal pop-up. As we get deeper into unit-specific marketing (more on that next), we find that the separate floor plan page gives us the extra real estate we need to highlight additional content such as the lease term options, Matterport tour, Realync videos, and the unit placement on an interactive site map.
Also, note that we are already adding those softer "Schedule Tour" and "Request Info" CTAs that we suggested earlier. We can dynamically collect the desired floor plan and unit number, so the guest cards we collect give you better insights into what the shopper is looking for.
For the SecureCafe lease application, we skip as many steps as we can based on what the prospect has shared with us. So if we know the floor plan they want, we'll start them at that exact step. If we know the desired unit and desired move-in date, we can dynamically populate those items in the application and skip ahead to save the prospect's time.
See a live example of the Single Floor Plan Product Page »
Unit-Specific Marketing and Merchandising
Prospects ultimately want to see the exact apartment they're considering, but we also work to balance that with an approach that prioritizes simplicity.
We see that better unit-level details will go a long way toward helping shoppers see the available features and lease term options, understand the wide range of prices on the same floor plan, and showcase your unit-level media such as Realync videos and Matterport tours where available.
We're currently working with multiple clients on an approach to unit-level merchandising that showcases what each unique unit has to offer, but also degrades gracefully for the many instances where you don't already have unit-level content ready.
Here's a live example of how we're approaching unit-specific features today. We can also pull in unit-specific photos and videos when those media assets are available.
Interactive Property Maps
To showcase where specific available apartments are located within a community, we've built a deep integration with the Engrain SightMap product.
Our RentPress service can instantly sync with the SightMap data, and we can zoom in on specific units on the map as the shopper narrows down their options. Interestingly, our data shows that the interactive map experience can be difficult to navigate on mobile devices, so we often see clients elect to hide the interactive map completely on mobile.
We're happy to share examples of how we can interface your data directly with the SightMap product upon request.
Add section that links to RentPress demo (advanced search, floor plan page, etc) and touches on the fact that using RentPress for these interfaces opens them up to constantly improving UI, unlike a typical one-time site build.
How would you optimize each phase of the customer journey?
Be the best answer.
We optimize each phase of the customer journey by working to be the best answer to the customer's questions at each step they take along the way.
This starts with your website and landing pages, but it also interfaces closely with the rest of your marketing tech stack, including your CRM, email nurturing, SMS, and more.
We've developed a marketing framework we call Look / Learn / Lease / Love (LLLL). Look/Learn/Lease is a full-funnel system based on years of insights into consumer behavior and marketing psychology — including both broad, common behaviors and those more specific to apartment shopping.
What we've found is that the more you improve from the bottom of the funnel up, the more efficient the entire marketing machine becomes, and the less you will need to spend overall (decreased Total Marketing Cost per Door).
A website for a single apartment community can't ever compete with the ILSs for broad search terms like "apartments in Atlanta" — it's simply not the right answer to the question when Google knows that the searcher is looking for options.
Guess what? A focused page on the Windsor website that showcases all 14 of your communities in the greater Atlanta area is the *perfect* page to answer that same searcher's question. And when you're the best answer to the search query, your site will rank higher and you won't need to rely on the ILSs to show up sooner in your prospects' search.
This works further down the funnel, too. Your prospect is looking for "2 bedroom apartments with in-unit washer and dryer" or "pet friendly apartments near Cambridge"? Your website should allow you to build pages that showcase all your communities that fit the criteria — be the best answer to your prospect's question.
And that is exactly how RentPress can help.
RentPress gives you the power and control to meet your prospect at every step of their apartment search:
The prospect starts with a broad search of your communities — they can search by location, desired bedrooms, budget, and more. That's all included in RentPress Advanced Search.
They narrow down their options by adding the criteria they need most. RentPress landing pages and Neighborhood Pages allow you to create targeted, relevant content for an endless mix of property amenities and apartment features — we'll dynamically pull in the properties that fit the criteria.
They find a community that's the perfect match. RentPress Property Pages give you the tools to share everything the prospect wants to see — photos, 3D tours, real-time pricing, even nearby sister communities. And because we can schedule the tour directly from the site, you'll see higher conversions and have much better insights into which marketing channels are the most productive for you.
They check to see if other people like living at the community. RentPress Reviews gives you the ability to pull your reviews directly into the property pages. Automatically pull reviews from Google, Modern Message, Kingsley surveys, and more.
We have encountered failed core web vitals for both our desktop and mobile interface, how would you correct these issues?
Better script handling
Looking at your current site, the largest opportunities would be to reduce unused JavaScript and defer loading scripts until they are required.
Various WordPress plugins can sometimes add scripts that rarely get used, so this effort would also consist of auditing your current plugins and removing them if necessary, as well as concatenating (linking) some of these scripts together to reduce file requests.
Optimize your photos
The second largest performance hit is mainly due to the number of large photos being requested on page load.
WordPress automatically creates multiple sizes of every image you upload to the media library, but it appears the website is serving up the larger-sized photos on mobile as well. We'd optimize these photos on desktop (if need be) and "lazy load" the additional slider photos to keep them from weighing down your initial page load. (Data shows most visitors do not scroll through sliders on websites.)
Ideally, we want the mobile site to be as light as possible. Luckily, we can use those smaller versions of each image that are already available in your media library, so we can rework the site to serve those smaller sizes conditionally for mobile screen sizes.
With this complete, we'd reassess but would need to also update some outdated third-party scripts that may have some security vulnerabilities. Look at moving some render-blocking scripts if not critical.
While doing an accessibility audit, there is also much room for improvement. Many elements throughout the HTML are missing aria roles. And many of the interactive elements are missing accessible names.
What improvements would you recommend to our homepage?
Make a lasting first impression for the Windsor brand.
The homepage of your website should, to the best of its ability, encapsulate who you are, what you do, and what you stand for. While clean in its design, the current homepage of the website does not tell the Windsor story effectively.
Add more content
This is valuable real estate, so we should use more of it to plant your flag and articulate what you're all about. This is the place to boldly stake your claim on what you stand for as a company. The homepage is the perfect place to feature your people and introduce your core "Why Windsor" messaging.
Curate supporting imagery. Both your copy and image selection should work together to tell your story.
Add more calls to action
Give visitors the opportunity to explore by market or featured neighborhoods. Get job seekers right to your career opportunities. Offer the option to subscribe to a newsletter or blog updates.
Swap out the search box
Trade out your search box with a "Search Apartments" button. This adds a step, but it serves to psych your visitors into exploring your site deeper by using a psychology principle called the Zeigarnik Effect – when people start something, they're more likely to finish it.
In our testing with other clients, we've seen swapping the search box with a button can increase completed property searches by as much as 15% or more.
Ditch the sliders
There are a number of reasons why sliders don't deliver a great user experience:
People don't interact with them
They can slow down your page speed
They can dilute your message
They can negatively impact SEO and conversions
Highlight featured properties
The homepage is an effective place to spotlight featured communities and showcase their beautiful amenities. This also helps to build internal links to the property listing pages.
Describe how your firm is preparing for GA4 and the deprecation of 3rd party cookies.
We have multiple experts already certified in GA4, and our data visualization tool (30 Lines Insights) is also ready to switch to GA4 when needed
GA4 is incredibly powerful, but there's a learning curve for those of us who are comfortable with Universal Analytics. GA4 also requires a significant amount of customized setup to track all the events and conversions you'll want to track across your site.
The good news: Google Analytics 4 uses first-party cookies, so you'll still be able to distinguish unique users, sessions, and conversion paths.
GA4 gives more insights than ever before into each user's journey. The goal is to identify and reduce the friction for each touchpoint a consumer could use to opt-in. Ideally, we want users opting into as many of these touchpoints as possible.
Moving beyond third-party cookies
Honestly, the demise of third-party cookies will affect large enterprise brands far more than it will impact Windsor's marketing strategy. You simply aren't relying on those third-party systems as much to generate awareness and demand.
That said, we're taking this as an opportunity to get back to basics, looking for smarter ways to improve our first-party and zero-party data collection strategies.
More personalized search. Try adding an optional email field to your main search page. In our testing with other clients, we see that up to 32% of shoppers will provide you with their email address as part of their search query … giving you an early opportunity to capture data and start personalizing the experience before they've even viewed a single property listing. 
We've always been a proponent of email and SMS marketing, and we see these solutions work incredibly well in multifamily, even as many apartment marketers tend to overlook email as part of their marketing mix.
Expand your Favorites functionality. You already have a feature that allows visitors to favorite properties on your site, but it is limited to single sessions. You could extend this by adding a login to your website, giving people a way to save and come back to their favorites. And you give yourself the opportunity to set up personalized alerts and win-back campaigns.
Create more helpful content. Apartment hunting is a stressful life event, and there are a number of ways you can insert yourself in that process to help your customers relieve some of that stress. Some examples: A list of the top questions to ask on your apartment tour, a downloadable moving checklist, or a property finder quiz (think Buzzfeed "personality quizzes") – any of these create new opportunities for you to identify and better understand your visitors and their preferences.
Do you have a recommended strategy for first-party data collection?
We would want to leverage all touchpoints –  including website/mobile app behavior, in-store or call center interactions, maintenance request history, and loyalty status – to create targeted ads, optimize your nurturing, and deliver personalized website experiences for an individual customer. available on the consumer's journey, And the good news, WordPress is an ideal platform on which to build out these programs.
First-party data opportunities:
Website browsing behavior. Use the customer's browsing pattern to dynamically suggest next steps. Are the browsing multiple properties? Did they go straight to one property and read the reviews or check out the pet policy? Those actions tell us a lot about where they're at in the process and what next step we want them to take 
Add optional contact fields to your main apartment search
Create login functionality to allow prospects to save favorites, sign up for price alerts, "pick up where you left off" experiences, and more
Leverage customer data pulled from Yardi and your CRM to personalize the website and nurture prospects through ads and email campaigns
Use data collected from EliseAI; Email and SMS data
Resident data provided by Bilt Rewards
Behavior data from the online application software and the resident mobile application – We see an opportunity for "abandoned cart" type of follow-up campaigns here
Response data from resident surveys
Referral data from Rentgrata and their resident API
Create new opportunities to capture "in-store" prospect data while shoppers are touring the property
Data collection from smart, behavior-based website pop-ups that ask for email addresses, phone number, move-in date, and floor plan preferences.
Data collection from website guest cards and other forms
Use property "personality quizzes" to collect insights and steer prospects to the properties and floor plans that are the best fit for their needs
Going back to the question about Google Analytics, the power of GA4 lies not only in new ways we can collect data, but what we can do with the data after it's collected. Ads, email campaigns, and other follow-up tools can be customized based on data collected to highlight floor plans, real availability, and other critical factors to create messaging focused on what shoppers are actually looking for.
What type of development does your firm use (agile, waterfall, hybrid)?
Our engineering team uses an agile development methodology. We also reserve time during each sprint to dedicate to any urgent support requests.
How would you recommend improvements to our SEO to improve our online visibility?
We've said it before: Be the best answer.
When you flip the Look / Learn / Lease / Love framework, it provides a basis for the direction we would take to improve your SEO. Start by maximizing the reach of the individual property pages, then create new content to help you move "up the funnel" and win more organic traffic from unbranded neighborhood-focused queries.
Our Approach to SEO – Our typical SEO strategy involves a wheel-and-spoke content strategy surrounded by additional over-time improvements/tweaks/additions to the on-site and off-site SEO.
Based on cost and time, we would map out a recurring content creation schedule and then implement updates to metadata, schema, additional content, local listings, etc to supplement that strategy. Because this is incorporating both a corporate site and properties (being brought into the same site) we would make sure to target both aspects of the site. Our main KPIs for SEO are organic traffic, traffic from local listings, and organic leads.
Specific Improvements/Recommendations:
Property pages:
Improve meta titles and descriptions to make them more location-targeted. Add "apartments in [Neighborhood]" to all property meta titles and descriptions
Full schema markup on all property pages
Create "child" pages (with schema markup) to build new opportunities to rank for property reviews and FAQ-related content.
Address content gaps
Ideal approach to portfolio SEO by leveraging existing neighborhood pages and creating new landing pages to deliver content that directly answers the most common keyword phrases. More robust content around neighborhoods/centralized marketing (aka for cities with multiple properties, content that gives people more options & clicks)
More search-specific content for corporate (short tail like "apartments in delray beach") and properties (long tail like "pet friend 2 bedroom apartments in delray beach, fl")
Other on-page improvements
Add numbers to meta titles and descriptions to indicate options available ("Search 100s of apartments across 14 communities in Houston")
Build internal links through blog content and smart cross-linking strategies
Monitor and clean up any broken links, missing alt tags, and other issues identified by Search Console.
Off-site SEO Opportunities
There are endless off-site SEO opportunities, but this has to start with further optimization of your Google Business Profile listings, including adding FAQs with complete answers.
Build out image/video content plan to maximize reach through key visual search channels
More consistent Google Posts and listing refreshes (CTAs, descriptions, etc)
We also see a number of opportunities to use other sites to broaden your reach and build inbound links to your site, including YouTube, LinkedIn, Pinterest, and many others where we can build a web presence while minimizing the need for ongoing social media maintenance.
Ultimately we want one website – how would you take us on that journey with your firm?
We love that you're committed to the parent Windsor brand and your brand vision – it's one of our favorite things about working with your team, and we truly believe it's your biggest opportunity to set yourself even further apart from your competition.
One important item to consider: While we see a wonderful opportunity to bring more of the Windsor brand message to the individual properties, each property ultimately has its own identity and unique selling points that help it stand out in its respective local market. 
We would want to identify any additional content that you'd like to add for each property to best communicate those unique selling points – this may include expanding the current property listing pages and/or adding new "child" pages for each property to highlight amenities, reviews and testimonials, featured floor plans, and more.
All the redirects. Technically, this is a massive endeavor to wind down the individual property websites, while simultaneously redirecting all of the indexed pages from those sites (approx. 40-70 pages per website) to the most appropriate page on WindsorCommunities.com.
30 Lines is already comfortable working with Windsor on this, as this is the exact process we used to redirect the Jack Flats site when it was rolled into the Radio Factory website. You are already using Yoast to manage your SEO, so you have the technical tools in place to set up and manage these redirects within the site. 
We can schedule out the redirects in phases to keep things manageable, and we'll handle the work to submit "change of address" requests to Google Search Console and Bing Webmaster Tools. We can also assist with external link updates, such as updating the links in Yext and your social media profiles.
As part of the redirect plan, we anticipate a short drop in organic traffic … this dip usually lasts 60-90 days. We'll want to work with you and your PPC partner to implement a "First 90 Days" plan to boost traffic for each property after we sunset the individual websites. 
All the tools you need in one place. With a single website, it opens up some unique new marketing opportunities and approaches … but we'll want to ensure you have the right tools in place to execute those strategies. We'll work with you to create new landing page templates and modules for lease-ups, special promotions, brand campaigns, and other types of pages we'll need to optimize your campaigns and increase conversions. 
We've seen that clients can significantly reduce their total marketing costs per door when they execute these strategies. One client reduced their portfolio PPC spend by 40% in just six months. Another has reduced their total spend to about one-third the industry average, and they operate in one of the highest-rent markets in the country.
This is all possible when Windsor builds on WordPress and the RentPress platform. And the best part is, we're just getting started. Here are even more proven ways our LOOK / LEARN / LEASE / LOVE approach can help you reduce your total marketing costs.
The fact that most multifamily companies aren't leveraging their corporate websites like this creates the perfect opportunity for Windsor. Combine your scale and reach and our renter-focused marketing platform, and you'll be in an ideal position to reach renters in ways that many of your competitors simply aren't leveraging today.
The corporate portfolio website often is the single most underutilized asset in the multifamily marketing toolkit. (This represents a massive opportunity for Windsor.)
We know because we've seen this for over a decade. And we see what a huge impact it can make across the entire business when an operator dedicates themselves to investing in their corporate website as an apartment marketing tool.
Think about it like this:
WindsorCommunities.com is the best place to articulate your brand, everything you stand for, and all the benefits that residents will enjoy when they live in a Windsor community. Any Windsor community.
WindsorCommunities.com is the best place to showcase the variety of communities you have to offer and steer shoppers to the perfect apartment for them. And when you need to, steer them to the properties that might need an extra boost to improve their occupancy trend.
WindsorCommunities.com is the best place to help you get in front of prospective customers sooner in their search.
What multifamily CRM systems have you integrated with?
Integrations + API support? Yes, yes, and yes.
This is where RentPress shines. Not only do we integrate with all of the major property management software providers and industry CRMs, but we also give you the ability to mix that data together in one cohesive shopping experience for the renter. Need to showcase both Yardi and Funnel properties on your site? You absolutely can – it's all one Windsor-branded search from the visitor's perspective.
Pricing/Availability Integrations
RealPage (ILM and Lead2Lease)
Describe your fluency with RentCafe APIs.
30 Lines already integrates with hundreds of RentCafe properties. As of December 2022, 73% of the properties 30 Lines works with across the country are using the RentCafe platform.
This includes everything we need to request, parse, and serve data for your properties, floor plans, units, unit-based pricing, and all the details that come with each. We also connect guest cards and tour scheduling in a bi-directional process, and we have a good picture of what is not included in the Yardi/RentCafe APIs that may require additional development or augmented content on your site.
We keep this process updated as new features are added, and address issues quickly when data anomalies occur. By Q1 2023, we will be fully migrated to the new RentCafe V2 API.
We also integrate with a number of other industry platforms. Most relevant to Windsor, RentPress integrates with the following:
Engrain SightMap – Show your RentPress availability on the Engrain SightMaps. Data is automatically synced, CTAs are consistent throughout the experience, and
Rentgrata – Add the Rentgrata messaging widget to each property listing page; Create resident messenger landing pages for dedicated referral campaigns; Incorporate testimonials and Rentgrata "Chat with a Resident" flows into your lead nurturing follow-up emails
Funnel – Pricing and availability feed, guest card creation (Tour scheduling and two-way lead sync for remarketing will be available Q1 '23)
Instagram – We can easily incorporate Instagram grids into your website to pull your social efforts back into your property pages.
J Turner – Display your J Turner reviews on the property pages or on dedicated (and schema-formatted) Reviews child pages for each property.
What is your warranty for feature releases?
We are the largest single user of our own tools, so we need them to work … and we invest the time to ensure they do. We dedicate engineering time to any outstanding support issues on a daily basis, with high priority given to any pricing/availability anomalies or guest card delivery issues.
We test our products from small unit tests for new features up to holistic testing on several websites and destinations simultaneously. We only get a good night's sleep when we know that we have published a good product that A) lives up to its promise and B) causes no harm. When we have those, then we publish a release.
We receive feedback in several ways, but the most common is through our public support form. If an issue or idea arises, this is a guaranteed way to get in front of a 30 Lines team member.
Supporting Your Success
You'll have access to our complete support documentation at support.30lines.com, and you can submit support requests anytime via email. You'll get a response from your account manager or someone on our RentPress within 24 hours (typically way less than that). If you need it, Mike's cell phone is 614.961.2461. The point is, we're here to help and we're ready to make this site as successful as possible for you.
Your Point of Contact
You'll have access to a dedicated Digital Marketing Account Manager, a Project Manager, a Data Analyst, our RentPress Product Manager, and our Lead Product Designer.
We'll host a monthly check-in call and quarterly strategy sessions where we'll dig into site traffic and conversions and help you identify ways to get more out of your site. You'll always have access to reach out to your Account Manager and our Client Success team anytime.
What is your testing approach?
We test our products from small unit tests for new features up to holistic testing on several websites and destinations simultaneously. We only get a good night's sleep when we know that we have published a good product that A) lives up to its promise and B) causes no harm. When we have those, then we publish a release.
We receive feedback in several ways, but the most common is through our public support form. If an issue or idea arises, this is a guaranteed way to get in front of a 30 Lines team member.
Related to your marketing strategy, we can split test page layouts, messaging, and calls to action in a number of different ways, both within the WordPress platform and through third-party tools like Google Optimize.
What's your approach to feature development vs. maintenance?
First and foremost, we want you to have a site that is easy for your team to update and build on. WordPress provides a great foundation for this, and we can work with you to create a more flexible, more modular site with components that you can easily reuse across the site.
Anything that introduces new functionality on the website or will materially impact the design or performance of the site will be considered a new feature. Feature development can either be handled on an individual basis where the client submits the feature request to their dedicated 30 Lines Account Manager and an estimate is sent out for the feature or through a development retainer approach. For the retainer approach, a development retainer agreement would be worked out for new website requests, which provides the client with a set amount of development hours each month for 30 Lines to work on updates to the website requested by the client (ex: creating new pages, building new features, etc.).
Our website maintenance package includes a customized bucket of hours of expert support per month, as well as nightly backups, security updates, and fast problem-solving.
Support requests are traditionally submitted by the client via the 30 Lines Support form and handled with a sense of urgency by 30 Lines' dedicated Support Team.
We can also provide you with direct access to Asana, our project management software. This gives you direct access to our team and a project management board built specifically for your team, and you'll have visibility into the status of any ongoing projects and outstanding requests.
What level of involvement do you expect from the client?
Simply put, the more you can be involved throughout the process, the happier you will be with the end result. This isn't "set it and forget it" – 30 Lines will want to work with you at each step to understand your needs, provide strategic advice, and receive your feedback for any ongoing and upcoming projects.
We absolutely need and expect your help, support, and input when we are working toward key milestones on your website. For example, your involvement is expected at the following stages of any project:
Requirements gathering
Timeline approval
Quote signing/approval
Project kick-off
Asset collection and prioritization
PMS and CRM integration and testing
Coordination with other vendor partners
Feedback/approval for new mockups and new development work
Regular check-ins with your Account Manager and Project Manager are expected as well to discuss ongoing projects, upcoming projects, and ongoing strategy.
The frequency of these check-in meetings can be flexible based on your needs (monthly, bi-weekly, etc.).
Lead Generation > Traffic Generation
We believe that too many multifamily operators tend to put far too much emphasis on advertising and generating top-of-the-funnel traffic, and many don't focus nearly enough on smart lead qualification and lead capture strategies once that traffic hits their websites.
We're trying to change that with RentPress.
We've built RentPress by blending innovative multifamily marketing with the latest in retail ecommerce trends. It makes for an easier shopping experience — it feels familiar to the customer because it looks and acts much like ecommerce sites that they've navigated a thousand times before. And when a website is easier to use, more people take action, ultimately resulting in more leads and leases for you.
Because your property search, floor plan availability, and contact forms will all be connected in one cohesive experience on the same domain, you'll be able to track and analyze the customer flow from initial entry all the way through to conversion.
Beyond our website interface, we also offer a number of other services and options to help you convert more traffic to leads, including our behavior-based Lease Magnet opt-ins, AI chatbots, online appointment schedulers, and more. We're happy to discuss any of these options at any point in the process.
How long has your company been in business?
Founded in 2008, 30 Lines is a team of curious marketers and technologists focused on creating easy, remarkable customer experiences. We build and integrate technologies that enhance the consumer journey, and we've been focused on elevating multifamily marketing since day one. Our studio has won multiple awards for both website design and our multifamily-focused SEO services.
Our Marketing Services team offers a suite of digitally-driven marketing solutions, but we've taken it a step further, developing RentPress, our own apartment marketing platform to help you to deliver a seamlessly integrated website for your prospects, while also giving you deeper insights into renter behavior and advertising performance, so you can craft more efficient campaigns over time.
We're not a start-up or a trend; we're a bootstrapped industry leader with a proven track record of delivering forward-thinking solutions.
And we're on a mission to make apartment shopping (and apartment marketing) an easy, remarkable experience for all.
30 Lines is 100% bootstrapped and privately owned. We made the Inc 5000 list in both 2019 and 2020, ranking us among the fastest-growing private companies in the country for two consecutive years.
While the majority of our business is in the multifamily industry (including student housing, senior living, affordable housing, and other industry categories), we also serve clients in restaurants, travel & tourism, and ecommerce. We love being able to bring new ideas from other industries into what we do for our multifamily clients.
Here's a look at how we've done over the past year:
Percent related to multifamily

80%

80%
Percent related to multifamily

85%

85%
Number of employees / Breakdown of roles
30 Lines is based in Columbus, Ohio, with team members in California, Michigan, Nevada, Virginia, Tennessee, and Washington. We're a small but scrappy group with 25 full-time employees (not counting the dogs). 43% of our leadership team is female.
Client Services

Product and Design

Engineering

Production

Sales

Operations, Support, and Finance
List core competencies for your agency
Our primary core competency is defined by one of our core values: Connect the Dots. We have an innate skill for seeing where technology is going and what a seamless customer experience can look like when you put all the pieces together with intention, from the first search through to the on-site tour.
We've been called customer journey sherpas. We focus on meeting the customer where they are with the right marketing message to get them one step closer to doing business with you.
We think in pixels and hyperlinks, and we are constantly asking two questions: 1) "How can we make this easier for the customer?" and 2) "How can we make this experience better?"
We focus on outcomes, not outputs. We know what drives your business, and we ruthlessly seek the most efficient path to get you the conversions you need to meet your goals.
We optimize for lifetime value. Marketing doesn't end when the tour is booked or even when the lease is signed, and we have to be open to changes in customer behavior that may lead to shifts in how or where we do business. 
We see the power in your story. SEO, social media, content – they're all opportunities for you to establish who you are and who you're for. We constantly look for ways to position you as the best answer and the obvious choice for your customer.
How do you keep up on digital trends?
Trends aren't set by your multifamily comps; they're set by the best-in-class customer experiences that your residents and prospects encounter daily with the other brands they interact with. We regularly look outside the industry for trends in consumer behavior, marketing, e-commerce, UI/UX design, and more. We see endless opportunities to learn from brands like Shopify, Nike, Marriott, and many others.
We then take those trends and ask,
"What could this look like for multifamily?"
We borrow and remix ideas all the time, and we keep great relationships with clients who are willing to test new ideas and push beyond the usual multifamily marketing strategies.
Within multifamily, 30 Lines is recognized as an industry thought leader. We regularly attend and speak at industry events such NAA Apartmentalize, NMHC OpTech, the AIM Conference, Globe St. Multifamily, and more. Earlier this year, we had the privilege of sharing the stage with Windsor at the Globe St. Multifamily event about attracting and retaining quality residents.
Never Stop Learning
One of our Team Values is Level Up: Actively pursue opportunities to improve as a person and as a professional.
Each month, we host Level Up training sessions for our team. The topics and presenters vary, but the focus is always to give our team better insights into what's happening in digital marketing and multifamily technology. We learn about other vendors' products (and how they can integrate with RentPress); marketing trends across SEO, social media, and email; Fair Housing and its impact on advertising; and more.
Additionally, every one of our employees receives an annual education stipend that they are expected to use to further their professional development through conferences, online courses, books, and other resources.
Standard rate sheet
There's a lot more to 30 Lines than you may have realized, and we're excited to show you how we can help you elevate your marketing beyond your website. We invite you to view and download our 2023 Rate Card and Marketing Playbook here.
You shared that the full scope for this project will include strategy, UX/UI design, development, maintenance, and analytics.
We are excited to work with you on a tailored proposal to cover all of these areas. We'll absolutely want to review the architecture of the current site theme files before we can make any determination about the work involved to customize and enhance the site going forward.
Do you agree to review and be open to reasonable contract changes if your bid is selected?
Of course.
We recognize that things come up. Priorities shift. New opportunities present themselves. And we want to help you to quickly adapt to meet those opportunities, even if that means adjusting our scope or revising our approach.
The 30 Lines team wants to thank you for being an amazing partner – and for considering this expansion of our marketing partnership. You're about to embark on an exciting journey … and we know the end result is going to be worth it.
We're ready to help you along the way, and we are confident that, no matter who you select to guide you through this evolution of your website, RentPress is the ideal platform to help you hit your big goals.
We wish the greatest success, and we can't wait to see the new WindsorCommunities.com come to life!
Ready to take the next step in this partnership?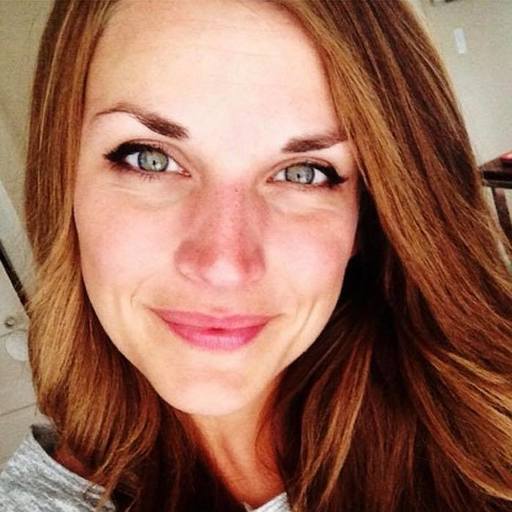 Shannan Keller
National Sales Director