I'm about midway through my eighth month as an intern here at 30 lines. In that time, I have become knowledgeable about more than I ever thought possible with digital.
The field requires that we stay up to date and plugged in to the zeitgeist, and part of staying plugged in means getting out of our headquarters every once in awhile to meet up with the area's thought leaders. I was given the opportunity to do this for the first time at WordCamp Columbus.
For those who don't know, WordCamp is a laid-back local conference where WordPress users —beginner to maven— can get together and share their expertise and love for the platform. Throughout the day there were nearly 30 talks about WordPress, and I had the pleasure of seeing a few of them. Below is a glimpse at some of my takeaways.
Google Chrome as a Web Dev & Design Learning Tool
Samie Murch is a graphic designer and web developer who got my day at WordCamp rolling. She gave a great demonstration about Google Chrome extensions that can support and speed up the design process. Here are three of those extensions:
Awesome Screenshot
So you're tired of googling how to take a screenshot on a PC, pulling it up on Photoshop so you can doodle your notes on it (another Google search in itself), then pulling up Gmail and sending it out. Well, Awesome Screenshot is going to change your life.
This app is the world's simplest screenshot tool ever. It can capture a highlighted slice of a page, the screen, or even scroll though the page and capture the whole site. Once you've captured the screenshot, you can use a myriad of tools to edit the shot however you want. You can even share the screenshot through the app using a linked email or uploading it to your Google Drive account.
I personally love the Google Drive feature. You could very easily create a feedback folder and share it with your vendor/client to exchange and keep track of your work. Check out this video for all the basics.
[youtube http://www.youtube.com/watch?v=MUVfhSg7-yE]
Click here to download Awesome Screenshot for Chrome
MeasureIt
Tired of trying to figure out how big an image is in your browser? MeasureIt is going to make all your agony vanish. This app does exactly what you think it would. Once you've installed it, just click the ruler icon and drag your cursor over any object on the screen and, voila, you know the size of the image. This app is a must if you're working with a designer or images on a daily basis.

Click here to download MeasureIt for Google Chrome
ColorZilla
ColorZilla is a really cool app that identifies any color on any webpage. Just install the app and Colorzilla will start seeing colors in both Hex and RGB formats. The app will also let you take a selected color and find several complementary color schemes.
Finally, the app has a history feature that lets you see colors you've saved. Again, if you are working with designers or developers on a regular basis, this tool will help you immensely.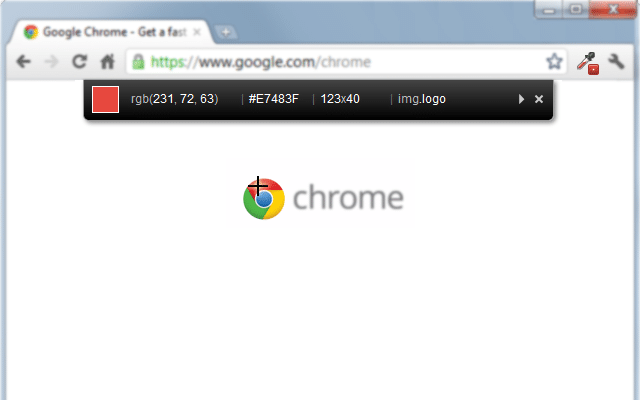 Click here to download ColorZilla for Google Chrome
Google Analytics: What Matters
Nate Driver gave an excellent talk about the prominence Google Analytics should have in your business, and shared some great blogs and resources for using the software. I'll briefly talk through some of the tools he introduced to us, along with one or two I've found over the past eight months.
Google Analytics Academy
Google Analytics Academy is an awesome resource from, you guessed it, Google! The academy offers four completely free courses on the basics of using Google Analytics for reporting and analysis. These courses range from six to 20 hours in length.
Once you complete a course, you're pointed to additional videos and resources to further your knowledge. Also, if you're looking to get your Google Analytics certification, know that courses are developed with those tests in mind.
Check out the Google Analytics Academy here
Occam's Razor – Avinash Kaushik
The first blog Nate dropped on us is a must-read for anyone working with digital: Occam's Razor by Avinash Kaushik. Avinash is the founder of Market Motive, a company that offers certification in six types of digital training. He is also the Google Marketing Evangelist and author of two bestselling analytics books: Web Analytics 2.0 and Web Analytics An Hour A Day.
Avinash's humorous, cut-to-the-chase attitude makes his blog perfect for the beginner and the pro. Read it frequently for wisdom and news about Analytics.
Check out Avinash's blog here
Moz Blog
Moz is another absolute must for us web marketing noobs and ninjas. Moz is a Software as a Service company that helps businesses rank better in search. They also have one of the most robust marketing blogs in existence today.
In fact, they have so many posts that they publish a monthly Top 10 list, which is great if you're short on time (or, like me, attention span). Read this blog for everything from inbound marketing tips to Google algorithm change explanations.
Check out the Moz Blog here
HubSpot
Another resource worth checking out is the HubSpot Marketing Resources Library. When you pull up the library, you can select the type of content and topic that interests you. Most topics have anywhere from five to 20 eBooks to dig through. The best part is that all this content is available for download.
Check out HubSpot's Marketing Library here
WordPress for Business: Measure the Success of Your Website
Mike, the president and founder here at 30 lines, gave a brief talk about some of the concepts he sees as the most important in digital marketing at the moment. He began by asking the question, "How do we help our customers buy more stuff?"
That one's pretty simple. On every page, every email, every post and every interaction, we should be helping consumers do what we want them to do. There are several channels that can be used to prompt them:
Content Marketing
SEO
Email
Landing Pages
Social Media
In marketing, we often hear about telling a story or speaking to the brand. This is just as important in digital marketing as it is in traditional. Every time you use one of the marketing channels above, consider how each piece of your presence helps tell your story at each step of the marketing funnel. Then, create the online presence you want prospects to see.
Part of creating a great online presence is generating and sharing compelling content. However, the latter is often overlooked. Mike offered some great tips and things to remember when sharing content:
"Pretty" Permalinks
Meta Titles and Descriptions
Good, Descriptive Links (Breadcrumbs)
XML Sitemap (Submit this to GWT, BWT)
Social Shareability (Twitter, Facebook, Google+)
Site Speed! (Especially on Mobile)
Mike also stressed that you have to work at having a great online presence. There is no secret keyword or secret code you can use to rank higher in search. There isn't a special button you can push on AdWords to make your cost per click go down.
When carrying out your online strategy, ask yourself, "Is what I'm about to do going to contribute to the Internet and my brand or is it just adding another shouting voice?" If what you're considering adds something and speaks accurately to your already great brand, then it's pretty likely that thing will help you.
For more from Mike, check out WordPress for Business: Measuring the Success of Your Website, follow the 30 Lines blog, or email him at mike@30lines.com
If you're free next year, definitely find time to stop by WordCamp and meet Columbus's best WordPress minds.
Have something to say or want to connect? Sound off in the comments below!