Case Study: A Lightning Fast Lease-Up in an Increasingly Competitive Market
We helped The Garrett Companies lease-up Drift at The Forum in record-breaking time.
The Garrett Companies is a fully integrated real estate company, founded in 2019. Primarily specializing in class-A suburban multifamily projects, the company has expanded their list of specialties, to include LIHTC affordable housing, mixed-use development, and restaurant management. The Garrett Companies also provides third-party services in property management, construction, interior design, and site planning. Their teams excel at developing, building, and managing multifamily assets nationwide by building value, eliminating risk, and providing superior risk-adjusted returns. 
The Challenge
The Garrett Companies sought to lease up their latest multifamily development, Drift at The Forum, a new construction property being delivered in Fort Myers, Florida in Spring 2021. More than 22 apartment communities were already within 3 miles of the property, placing it in a highly competitive market near downtown. 
This luxury apartment community was in the early stages of construction when we began working with them, and we were tasked with providing digital tools to support an efficient and fast-moving lease up without burdensome, added tasks and time constraints on their team. 
The property already had a basic website in place, and 30 Lines saw the opportunity to improve the site with supporting SEO and SEM that would turn the website into the #1 traffic and lease driver for the business. Their leasing team needed a streamlined process for drawing in qualified leads and accelerating them through the leasing funnel. As a newly built property in the region, Drift at The Forum also needed to establish a brand identity in the region, and build trust with its customers along the way.
Drift at The Forum's Top Selling Points:
Minutes Away From The Beach

Near Local Dining, Shopping, and Entertainment

Garages Available To Rent

Storage Units Available To Rent

Yoga Studio

1500 sf. Fitness Center

24/7 Controlled Access Package Lockers

Theater Room

Expansive, Heated Pool Area w/ Sitting Shelf & Water Features

Putting Green
The Approach
We deployed our most powerful digital marketing and conversion tools to strengthen every piece of their marketing machine. We started by transforming their website into a compelling marketing hub by creating smart content and using our tools to convert and nurture prospects.
Simultaneously, we established a social media presence and helpful local listings to drive traffic to the website.
By focusing on lead conversion through behavior-based Lease Magnets and a multi-channel chatbot, we created multiple points to increase lead capture – all ultimately making it far easier for prospects to get answers to their questions, signal their interest, and connect with the leasing staff. 
Finally, we leaned on expert lead nurturing practices to keep those prospects informed, boost their confidence and excitement in the brand along the way, and influence their decision to lease.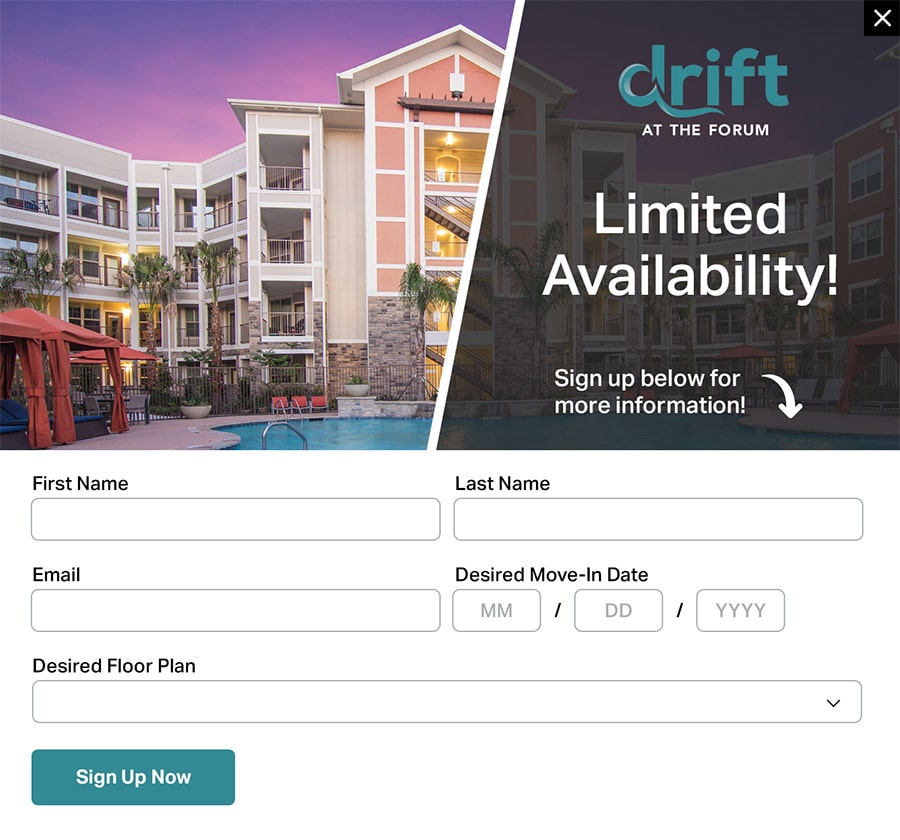 The Process
To build initial awareness for the brand and property, we utilized our Look / Learn / Lease / Love customer behavior framework to develop a strategic and effective advertising strategy based on how today's customers shop for their next apartment. This set up the process for success out of the gate, creating a clear pathway to find, reach, engage and retain prospects at every stage of the leasing funnel.
Convert Leads With Lease Magnets
Our Lease Magnet conversion technology is a tried and true winner at lease conversion. On average, Lease Magnet technology attracts more than 40 leads per month, moving new leads into our client's leasing funnel faster and earlier in the process.
In less than a year, Drift at The Forum generated 867 leads from our Lease Magnet conversion tools alone.
That breaks out to 78 high qualified leads per month at a cost of only $1.69 per lead.
By seamlessly integrating with Garrett's CRM software, we were able to meet qualified leads right where they were in their search, gather information about their needs and deliver them the specific answers they were looking for.
Through the use of chatbots and carefully-branded website conversion tools, Drift was able to gather prospect contact info and apartment preferences. We were able to use this data to empower their teams with custom follow up information that provided a streamlined pathway through the leasing funnel. 
Leverage Lead Nurturing Through Email Marketing
Our email marketing campaigns focus on personalization, automation, and brand storytelling throughout the customer journey.  We created an automated email journey to nurture and focus on the next steps to signing a lease – viewing amenity photos, selecting a floor plan, meeting the team, taking a tour and applying. Each campaign within the email journey was customized to the community branding and style guide.
Each lead was directly synced to the CRM from all digital channels, saving the onsite team and delivering high-quality prospect data.
Interested in learning about how 30 Lines can help you lease up in record-breaking time?
Schedule a chat with our multifamily marketing experts, and let us help you convert more leads and sign leases more efficiently than ever before.
30 Lines helps Garrett Residential to accomplish our goals by inserting technology and expertise into all levels of the sales conversion journey.
The Garrett Company Team
Interested in learning about how 30 Lines can help you lease up in record-breaking time?
Schedule a chat with our multifamily marketing experts, and let us help you convert more leads and sign more leases than ever before.